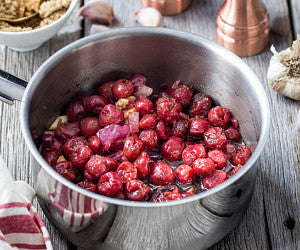 Tart Cherry Glazed Spicy Meatballs
Ingredients
Meatballs:
1 1/2 pounds ground pork
1 large egg, lightly beaten
1/4 cup seasoned panko breadcrumbs
1 teaspoon fennel seeds
1 teaspoon kosher salt
1 teaspoon crushed red pepper flakes (or less for milder flavor)
1/2 teaspoon garlic powder
1 tablespoons olive oil

Montmorency Tart Cherry Glaze:
2 teaspoons olive oil
2 cloves garlic, minced
1/4 red onion, chopped
3 cups frozen Montmorency Tart Cherries, thawed
1/4 cup balsamic vinegar
1/4 cup light brown sugar
kosher salt and black pepper to taste
2 teaspoons corn starch mixed with
1 Tablespoon water

Directions (makes 24 meatballs)
In a large bowl, gently mix together pork, egg, breadcrumbs, fennel seeds, kosher salt, crushed red pepper, and garlic powder until combined.

Scoop 1 Tablespoon of the mixture and roll into a ball and set on a sheet pan. Repeat with remaining pork.

Heat 1 Tablespoon olive oil in a large skillet. Sear half of the meatballs, turning every few minutes until browned on all sides. Remove meatballs from pan and repeat searing step with remaining meatballs.